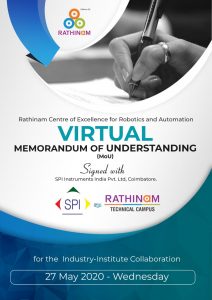 Rathinam Centre of Excellence for Robotics and Automation Virtual Memorandum of Understanding
Rathinam Group of Institutions assigned MoU with SPI Equipments India (P) Limited, Coimbatore. SPI Equipment's India Private Limited is a machine manufacturing company based in India, Established in the year 2001. SPI Equipments India (P) Limited are consistent innovators and equipment manufacturers catering to textile and dyeing industries in India and Abroad. More than 15 years of strong customer-focused approach and continuous smart work for world-class quality have enabled us to attain sustained leadership in the textile industry.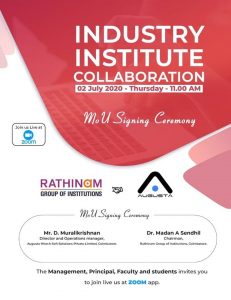 Industry Institute Collaboration
To provide industrial exposure to the students and Faculty members of Rathinam Group of Institutions, Eachanari, Coimbatore a memorandum of Understanding (MoU) was signed between the Institution and Augusta Hitech Soft Solutions, Coimbatore on July 02, 2020.
The MoU was signed to expand a framework of learning partnership. This MoU has been signed to bridge the gap between industry and academics and to provide industrial exposure to the students during their academics. Under the MoU, Augusta will undertake efforts to sharpen the technical skills of students on recent technologies. In addition, the MoU has also facilitated the mutual sharing of research on artificial Intelligence.
Dr. Madan.A.Sendil, Chairman, Rathinam Group of Institutions presided the ceremony. Mr.Muralidharan –Managing Director, Augusta Hitech Soft Solutions, Coimbatore delivered the presidential address. Dr. T. Nithianandam, CO, Prof. R. Manickam- CEO, Dr. B. Nagarajan-Principal adorned the ceremony.
Students and Faculty members of Rathinam Group of Institutions participated in this auspicious ceremony virtually through ZOOM.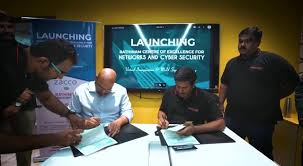 Rathinam inaugurates CISCO & Zacco Centers of Excellence
Rathinam Group of Institutions signed MoU's with Zacco Cyber Security Research Labs India Pvt Ltd., Coimbatore, and A2B2 IT Services and also inaugurated Rathinam Center of Excellence (COE) for Networks and Cyber Security by CISCO and ZACCO.
These MoU's will be beneficial for Computer Science and Information Technology students to establish innovative thoughts and ideas in this interesting field. It added that the MoUs will be helpful for the students to establish new thoughts and nurture their realistic innovations according to the current industry's expectations.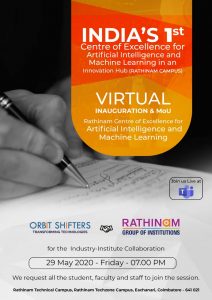 Orbit Shifters India Pvt Ltd
Rathinam Group of Institutions Signed an MoU with Orbit Shifters India Pvt Ltd., Hyderabad in the virtual platform, and Inaugurated Rathinam Center of Excellence for Artificial Intelligence and Machine Learning.
Students are going to work on real-life use cases; they will be handheld & guided to the logical conclusion of the AI Project with the detailed review comments & detailed grading of the submissions. To name few projects VideoAnalytics in Sports, Building a fraud detection toolkit, Sensor malfunction prediction, Deep Learning based Sentiment Analyzer, Real-Time Analytics of IoT SensorData, Sentiment analysis of Social media, Classification of images for industrial safety, Understanding E-commerce customer segmentation, Soil Testing End to End Bank Chatbot from scratch in Python, Water Turbidity Test, Student Attendance System using Video Analytics, Custom Chatbot with deep learning-based intent classification, End to end sentiment classification of twitter with deep learning and NLP, Video analytics for instance segmentation, Automatic captioning of images with encoder-decoder architecture and Human activity recognition with machine learning.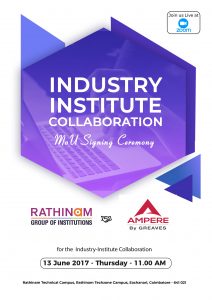 This MOU details the modalities and general conditions regarding collaboration between Rathinam and Ampere for enhancing the following in the field of vehicles
1. Availability of qualified manpower
2. Research
3. Student training and
4. Promotion of sales of Electric Vehicles.
These would be undertaken without any prejudice to prevailing rules and regulations in Rathinam and Ampere.